A guide on how to visit some monumental works of Land Art
Since the 1960s when the term "Land Art" was coined, artists have been playing with the notion of art in relation to nature — reconfiguring the meaning, the relationship, and often transforming the land itself, in hopes of creating new ways of seeing. As such, we're highlighting some unique works of Land Art you can visit and experience how these artists transformed the natural world into something both organic and otherworldly.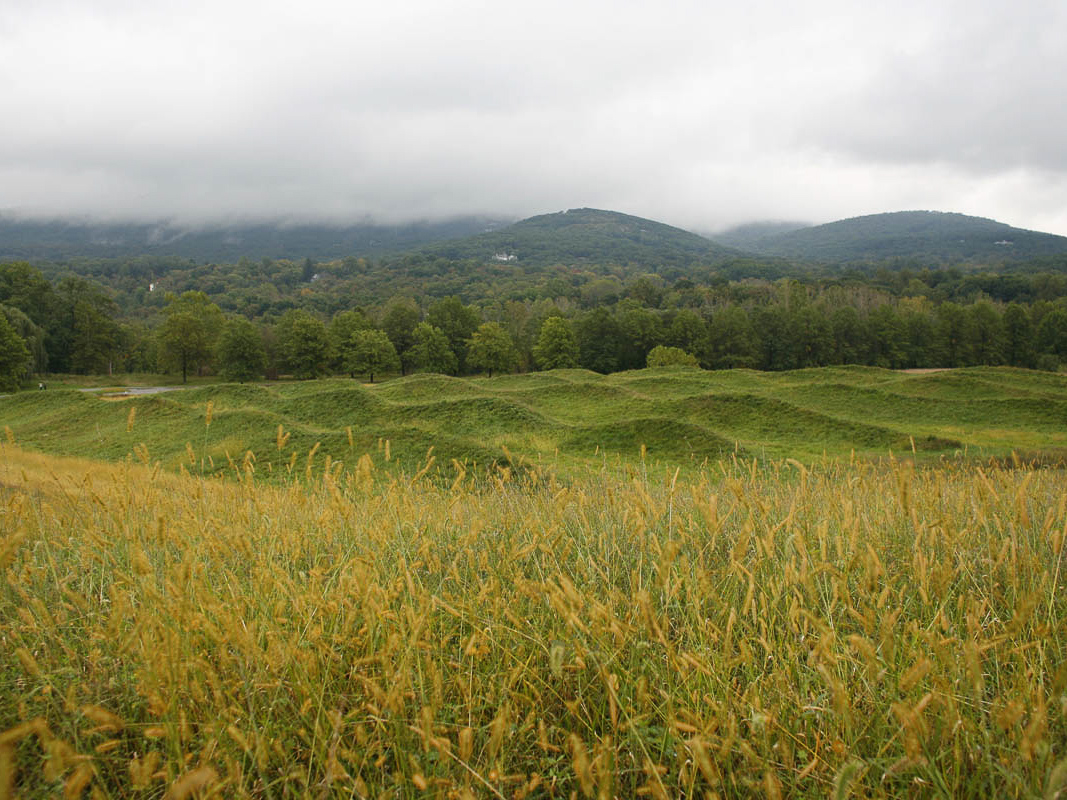 Maya Lin Storm King Wavefield
Constructed entirely of earth and grass, Maya Lin's Storm King Wavefield is a rolling site-specific sculpture that reconfigures our relationship with our landscape. From a distance, the earth undulates like a sea at high-tide, while the aerial view suggests a reference to topological maps. But when you are physically in the field, up and down and around, the waves of grass feel like the ocean — massive, overwhelming yet inviting, as if they are telling that you bob and weave and explore them as you would the sea.

The largest of Lin's Wavefields is permanently installed at Storm King Art Center, an outdoor sculpture park an hour and a half drive straight north from New York City. Highly recommended for those looking for an exploratory day in the Hudson Valley.
Robert Smithson Spiral Jetty
Built in the Great Salt Lake, where it has remained since April 1970, Robert Smithson's Spiral Jetty is a visionary work synonymous with Land Art. Smithson's iconic piece uses over 6,000 tons of black basalt rocks to form a 1,500 foot long coil that extends from the Rozel Point peninsula. Spiral Jetty is in a near constant state of flux, due to the tides of the Salt Lake, which means it can either be fully visible, or fully submerged, or somewhere in the middle, giving visitors a unique experience anytime they descend on the shore.

Interested in visiting Spiral Jetty? It's roughly a 2 hour drive from Salt Lake City. However, it is a bit off the grid, so be sure to pack some supplies, as there isn't much near by. Oh, and phone service? Fughetaboutit. Learn more about visiting Spiral Jetty from the Dia Foundation.



Walter De Maria Lightning Field
Inside the cabin where you experience Walter de Maria's The Lightning Field is a quote from the artist:

"The land is not the setting for the work but a part of the work."

De Maria's The Lightning Field is at once a sculpture and an interactive, electro-charger — featuring 400 polished stainless steel poles installed in a one mile by one kilometer grid array, each spaced about 220 feet apart. Designed to survive winds of up to 110 mph, these poles often attract lightning, in turn, activating the sculpture, and lighting up the landscape. The result: an electrified light show, courtesy of Mother Nature.

While the exact location of De Maria's The Lightning Field is a secret, inquisitive adventure seekers can visit the electrified location, and stay the night, courtesy of the Dia Foundation.
Michael Heizer Double Negative
Situated in the southern Nevada desert, Double Negative is work of land art by Michael Heizer. Completed in 1970, Double Negative is a two-part trench cut into the Virgin River Mesa outside of Overton, Nevada. Double Negative is roughly a quarter mile long, 50 feet deep and 30 feet wide. The artwork displaced 240,000 tons of rock in its construction. Originally funded by a prominent art collector named Virginia Dwan, Double Negative was eventually gifted by Dwan to The Museum of Contemporary Art, Los Angeles in 1984 with Heizer's condition that the museum will not conserve the piece and will let the piece be reclaimed to a natural state through weathering and erosion.

Visiting Double Negative requires about a two-hour drive from Las Vegas, the last few miles of which are on an unpaved road in the desert. MOCA has all the details on how to schedule and plan for a trip to Double Negative.
James Turrell Roden Crater
James Turrell is known for using light and space to transform natural elements into experiential works of art. In 1979, he purchased a 400,000 year-old 3-mile-wide crater in the Northern Arizona desert. Why? He wanted to transform the cinder cone from an extinct volcano into a sort of celestial observatory. Located in the middle of the desert outside the realm of light pollution, Turrell describes the Roden Crater as "a vast naked eye observatory for celestial objects and events ranging from obscure and infrequent to the more familiar summer and winter solstice."

This insane monument to the stars is indeed monumental. And so is the price to enter. While many of the works we profiled are free to experience, as long as you can get there, the cost to enter Turrell's epic observatory is a hefty $6,500. We couldn't tell you if its worth it, but … who knows?!??! Still intrigued, get all the details on visiting here.